Sintering is an inovative technique and has long tradition

SINTERING – AN INNOVATIVE TECHNIQUE WITH A LONG TRADITION
The technique of sintering is one of the oldest branches of metallurgy. The first plain bearings were manufactured as early as 1870 in the USA and were made of wood impregnated with tar. These plain bearings were used for hand carts and horse-drawn wagons. The sintering technique has been used since around 1930 in its present form, i.e. metal powder is pressed into a mould and made to glow at very high temperatures. The metallic parts are therefore 'baked together'. The sintering technique is an innovative technology and has been continually further developed into an increasingly complicated moulding technique. Today, the range of possible products extends from the smallest moulded parts for micro-motors up to large moulded parts.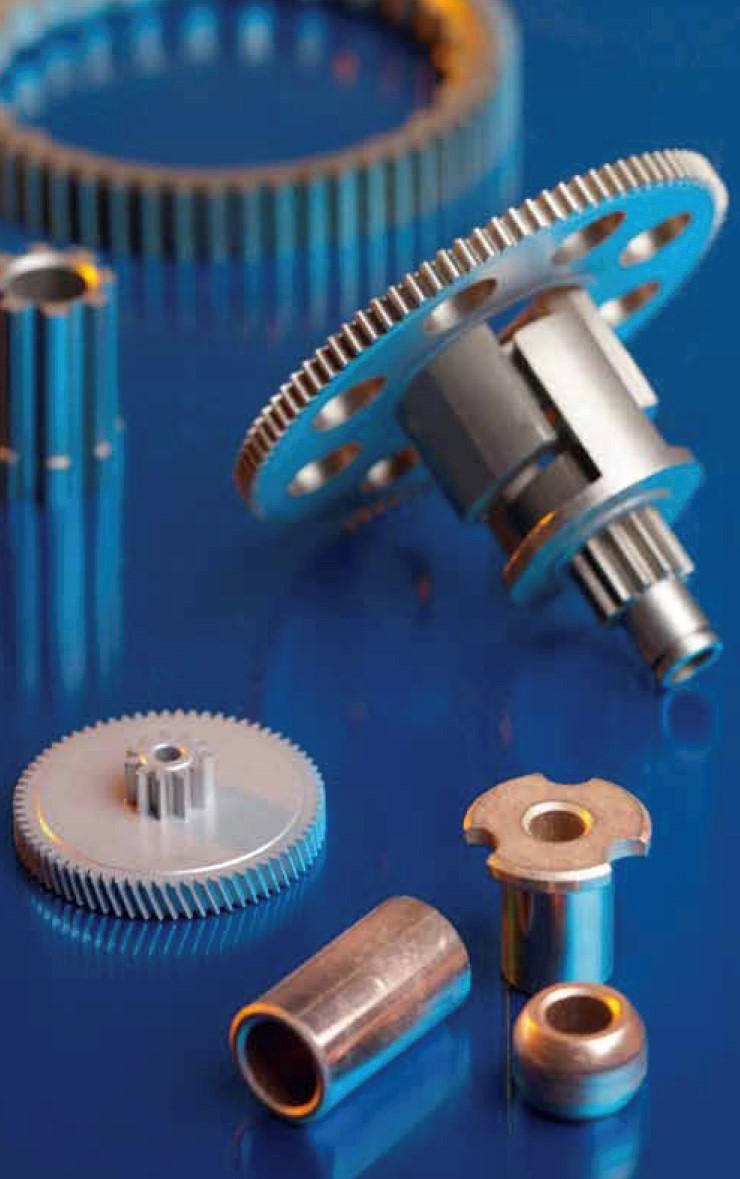 WHAT DOES SINTERING MEAN?
To put it very simply, sintering is a manufacturing process in which powdery substances are compacted and hardened by heating them up strongly (Manufacturing Process). The sintering technique offers a great many advantages, e.g. dimensional accuracy, even for larger lot sizes, and is suitable for a large number of applications (Materials and Applications).
Thanks to the sintering technique, sintered parts of the highest complexity can be manufactured with a high repeatability.
The process of manufacturing a sintered part or sintered bearing usually encompasses four or five steps plus an eventual after treatment (see 6. Below)
Mixing
The powder (i.e. the desired material) is mixed. By choosing the right material product features can be exactly reached.
Pressing
After that the powder is filled by gravity into the desired mould and pressed into the mould under high pressure. Pressing takes place in mechanical or hydraulic machines. The pressing sequence is automatically repeatable and allows high speeds of production. Precise, geometrically defined parts are obtained in this manner. At this stage, a so-called 'green part' of a very low strength is created. It only attains its final strength by means of the subsequent thermal process, the sintering.
Sintering
The sintering process is a complex thermal process that is defined by a whole series of chemical and physical laws. The 'green part' is transformed by the heat into a high strength body by means of 'baking together' the fine metal grains. The result is a porous body with a high strength. The free pores can be filled with a lubricant, which produces the self-lubricating effect, e.g. in a sintered plain bearing.
Calibration
The sintered part is pressed into a mould (calibration tool) and hence slightly plastically deformed. By means of the calibration process, running surfaces of a high surface quality can be created whilst maintaining the tightest tolerances.
Impregnation
The purpose of this process is to fill the open pores of the sintered body with the chosen lubricant, whether it be to protect moulded parts against corrosion or to lubricate sintered plain bearings. In sintered plain bearings, impregnation is a prerequisite for hydrodynamic operation, i.e. for self-lubrication. The choice of oil depends on various criteria, such as:
application and use of the end product
service life and environmental conditions
type of installation and position of the sintered plain bearing
compatibility of the parts with the immediate surroundings
Lubrication is the key to a long bearing lifetime, especially in view of the high speeds of rotation and the temperatures employed today.
Sinter after treatment
A chemical, mechanical or thermal after treatment is possible, e.g. grinding, tumbling, heat treatment, plating.
SINTERING PARTS – ADVANTAGE OF THE SINTERING TECHNIQUE
Sintering parts exhibit high dimensional accuracy, even with complex geometries, and can be manufactured with a high repeatability without machining, even in large lot sizes. Even highly complex geometries can be produced with one tool in only one pressing process. Very close tolerance can be kept.
no additional machining
high accuracy with large lot sizes
weight saving of 10 – 15 % over solid material
exploitation of porosity for self-lubrication
large choice of materials
no machining waste
Suitable Materials
bronze
rustproof stainless steel
ferrous materials
steel (low-alloyed steel and sinter-hardened steel)
Applications
household appliances, electric power tools
fittings and locks
motors and gearboxes
hobbies and leisure
measurement and control technology
agricultural and gardening machinery
many different automotive applications
Self-lubricating sintered plain bearings made of bronze and iron
Self-lubricating sintered plain bearings are among the most tried-and-tested products in our range and have been used millions of times over in the most diverse applications. Bearings must have the longest possible lifetime, even at the high speeds of rotation and temperatures normally employed nowadays. Lubrication is the magic word for the longest possible bearing lifetime. The purpose of the process is to fill the open pores of the sintered body with the chosen lubricant. In sintered plain bearings, impregnation is a prerequisite for hydrodynamic operation. (Self-lubrication).
The choice of lubricant depends on various criteria, such as:
application and use of the end product.
service life and environmental conditions.
compatibility with the parts in the immediate surroundings.
type of installation and position of the sintered plain bearing.
Thanks to their precision and purity, our bearings are characterised by smooth running and offer optimum hydrodynamic conditions.
Besides the standard bearing forms and standard tolerances, you will find over 1,000 different dimensions and versions in our range. Naturally materials, form and lubricant can be adapted to suit the specific requirements of the operating environment. We deliver cylindrical bearings, collar bearings or cup and ball bearings and also other forms on enquiry. The tolerances can also be changed for special requirements.
Our sintered bronze bearings are extremely resistant to corrosion and exhibit outstanding running characteristics. Sintered iron bearings represent an ideal inexpensive alternative. Running noises are reduced and the lubrication of the contact surfaces is improved by means of the addition of graphite to the sinter material.
To be delivered in short time from our stock:
Just send us your enquiry, we will be pleased to advise you and offer you the optimum bearing for your needs.
SINTERED FILTERS AND SILENCER
We supply filters and silencer made of spherical bronze or stainless steel. The sintering process keeps the material together which makes the sintered filters more stable than conventional filters. Porosity allows it to customize the filters ideally to the required characteristics of the application. Different geometrical forms can be pressed in only one production step.
By using the porosity of filters they can be used for the following applications:
Control of flow of gas or other liquids
Pressure compensation/ventilation
Flame barrier, explosion protection
Filtration of gas or liquid
We offer filters and silencers in various standard versions:
Beside standard versions of filters and silencers we offer special design for specific applications which perfectly fulfil your specific requirements as to geometrical form and size of pores.