MIM – an innovative manufacturing technology for the production of components with complex geometries in one piece
WHAT IS MIM?
Metal injection Moulding (MIM) is a technology that combines the strengths of conventional powder metallurgy and plastic injection moulding. It is the most cost-effective process in making small parts with complicated shapes in one piece .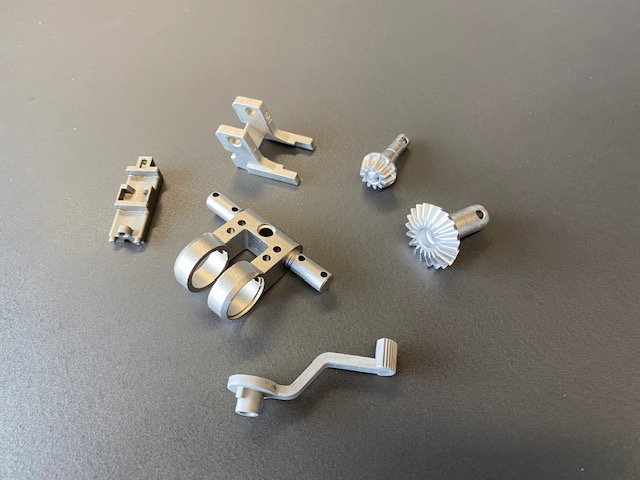 In a first step fine metal or ceramic powder is mixed with thermoplastic binder and kneaded (kneading process). The kneaded feedstock is then granulated and fed into injection moulding machines (injection moulding process). Under pressure and heat the feedstock flows into the mould cavity, forming the desired shapes. After being removed from the mould, the moulded parts go through a debinding process to remove the binders. The debound parts are then sintered in a furnace (sintering process). The result – the finished part – is a purely metallic (or ceramic) end product that combines the mechanical advantages of sintered components with the great variety of shapes of injection moulding.
COMPARSION OF SINTERING AND MIM
MIM is quite often confused with sintering in which rather flat and less complex geometries are pressed and then sintered. Compared to machining or sintering of simple and rotationally symmetrical components MIM is usually at a disadvantage in terms of costs. However, MIM technology has always an advantage where complex geometry, special material requirements and low error quote are required or expensive rework should be avoided. MIM allows undercuts, drilling, thread, Logos and marks to be integrated directly into the component or even entire assemblies can be manufactured in one piece. In addition, the density of MIM parts is evenly distributed and densities of 96% to 100% can be achieved.
Advantages of MIM in short:
Manufacturing of complex geometries without rework (saving of expensive process steps)
Economic manufacturing process for small or medium-sized components
Excellent surface quality
High density
Large choice of materials: e.g. stainless steel, iron-nickel alloy, soft magnetic alloy, special alloys (special customer requirements)